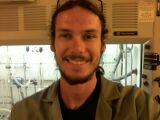 Graduate Student Researcher
Chemistry Department
Office Location
:
Chem 3242B, Lab: Chem 3146
Specialization
:
Design, Synthesis, and applications of conjugated amphiphilic block and multiblock copolymers
Bio
:
I was born in Indian Rocks Beach, Florida and grew up in the surrounding area.  I received my B.A degrees in Biochemistry and Environmental Chemistry from Florida State University in May 2012. I conducted undergraduate research under Dr. Igor Alabugin, studying photocyclizations of alkynes and applications thereof. I joined the Bazan group in June 2012.
Research
:
Design and synthesis of fully conjugated block and multiblock copolymers containing conjugated polyelectrolyte segments.  The synthesis employs chain growth polymerizations using modified Suzuki-Miyuara Palladium catalysis or Nickel based Grignard Metathesis.  These materials are studied for their self-assembly properties in thin films for controlled solid state morphologies in organic semiconducting devices.